Partnership
Our partner in Cork is St John's Central College. The college is administered by the Cork Education and Training Board. St. John's offers both academic and vocational courses. The college includes many modern teaching facilities, including a laboratory, dark room, art studios, hairdressing studio, and tool workshops.
Official website: http://www.stjohnscollege.ie/
Cork is second the second biggest and most visited city in Republic of Ireland. It is a perfect place for students that want to learn about Irish culture, visit various tourist attractions, meet new people, try traditional food and practice English.
Culture
Cork is a typical and traditional Irish city. The cultural side of this city is very different. For example, there is about 200 various pubs, bars and night clubs that have a lot of types of music playing, from rock to electronic music. Fans of live jazz music would find this place very interesting because of The Cork Jazz Festival that happens each year in the end of October. The festival is Ireland's biggest jazz event and welcomes hundreds of musicians and thousands of music lovers from all over the world to the city every year.
There are also a lot of other activities such as several galleries, museums, The National Sculpture Factory, dance Theatres and artist workshops.
Popular tourist attractions
The Ireland's biggest wildlife park, Fota Island, is only 15 minutes away from the heart of the city. It is the best place for people of all ages to relax, go for a walk and enjoy the nature. Fota Resort also includes activities such as golf, tennis, gardens, shuttle service and rebel corporate activities.
Another very important treasure of Cork is The Blarney Castle which is approximately 20-30 minutes away from the city. At the top of the castle lies the Stone of Eloquence, better known as the Blarney Stone. Tourists visiting Blarney Castle may hang upside-down over a sheer drop to kiss the stone, which is said to give the gift of eloquence. "Kiss it and you'll never again be lost for words!"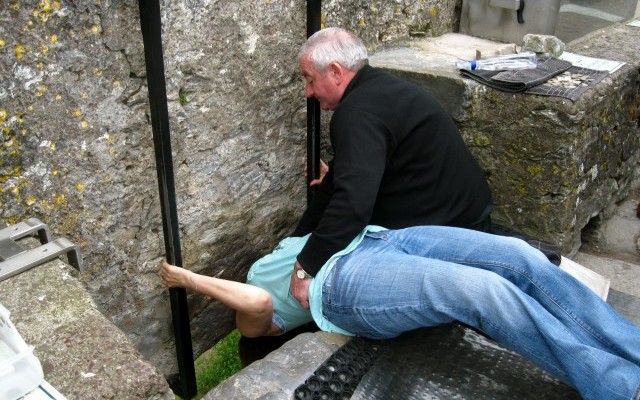 Of course, the place that is impossible to visit because it is located in the heart of Cork is The English Market. With its variety of products, the pride of place accorded to small traders, the personalized service, the growing emphasis on organic products and reliance on small-scale producers, it is forever popular. The market became very popular and one of the main tourist attraction in the country after a visit by Queen Elizabeth II during her 2011 state visit.
People
Locals of Cork City are very open minded and friendly people. They welcome a lot of students and tourist from all around the world every year. People that live there do not mind the fact that some tourists have poor English language. They are always happy to give directions or even recommend some specific places that in their opinion you should visit. "No, you have to go to this little pub I know. Let me show you on my map."
Being polite and nice to each other is very important in Ireland. The Irish always say "sorry", "thank you", and sometimes it is normal to greet the stranger on the street with the simple "Hi". Also it is very important for Irish people to say "thank you" to the bus driver when they leave a bus. All that matters is to be respectful.
In Cork (or other cities) is absolutely normal to compliment a stranger on its outfit, hair or something else.
Corkonians also have their own accent and slang. Unfortunately this is not the case, as Cork – much like Dublin – has a lexicon all of its very own. There is an example of few phrases that you can hear only in Cork:
"What's the story?" – Hello. What is new in the world on this fine day?
"D´ya know what I mean like?" – Though it may sound like a question, I want to make it clear that you must agree with what I have just said.
Food
From lamb in spring, to fish in summer, stews and soups in the winter and, of course, potatoes at almost any time of the year, Irish food is simple, hearty, family cooking that follows the seasons.
People that come to visit Ireland would be surprised with amount of restaurants, cafes, and take away places are in there. There is absolutely no problem to get food at any time of the day. Plenty of places are open 24/7, which is very handy for people who like to go for a quick meal after a night out.
Cork has a lot of different restaurants: from traditional Irish, to popular South African "Nando's", Brazilian and Italian restaurants, very loved by the Irish, Asian restaurants and, of course, fast food restaurants are very popular not only in Cork but everywhere in Ireland.
Above you can see the picture of the traditional full Irish Breakfast.
A large cooked breakfast of meat (bacon, sausages and black puddings), eggs, mushrooms, beans, vegetables and potato all fried in creamery butter, it is served with a generous helping of homemade Irish soda or brown bread.